Årets spillmesse er over, og her er en liten rapport fra Essen.
Messa åpnet kl 10 torsdag den 18.10. En god del folk har møtt opp, det er kø til bilettkassene.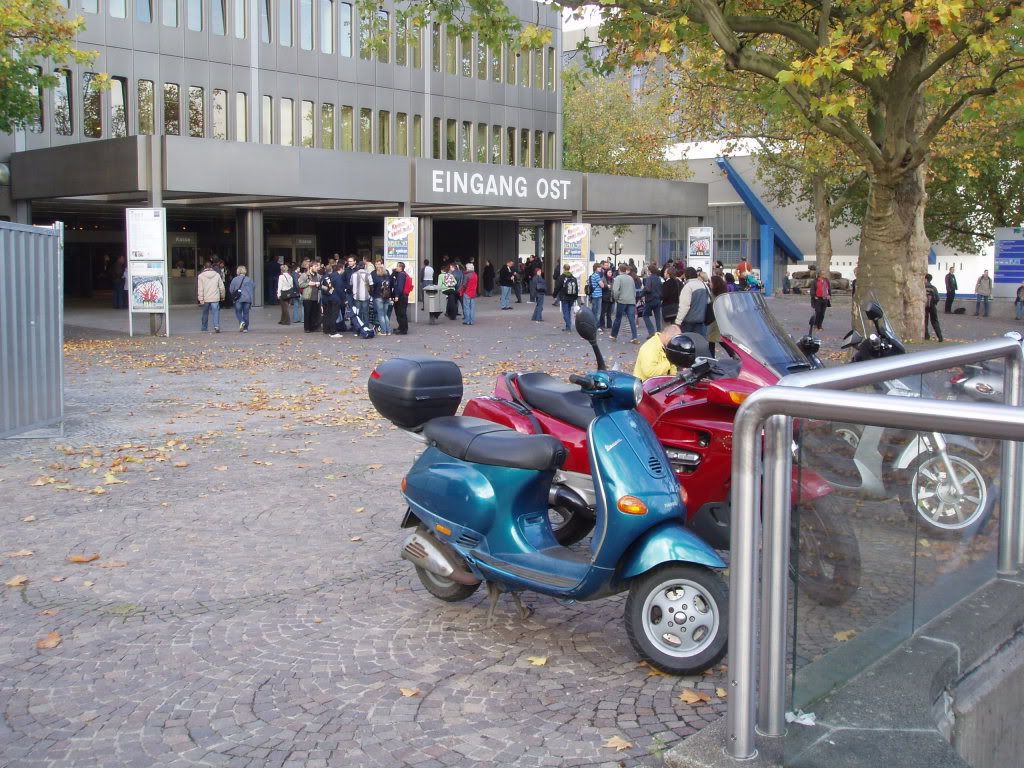 Dette går superraskt, og om litt er vi inne, hvor det er høy aktivitet. Det første vi ser når vi kommer inn i hallene er Kosmos forlag med en stor Catan-Plakat.
På utstilling her finner vi årets vinner av den tyske spillprisen, Pillars Of The Earth.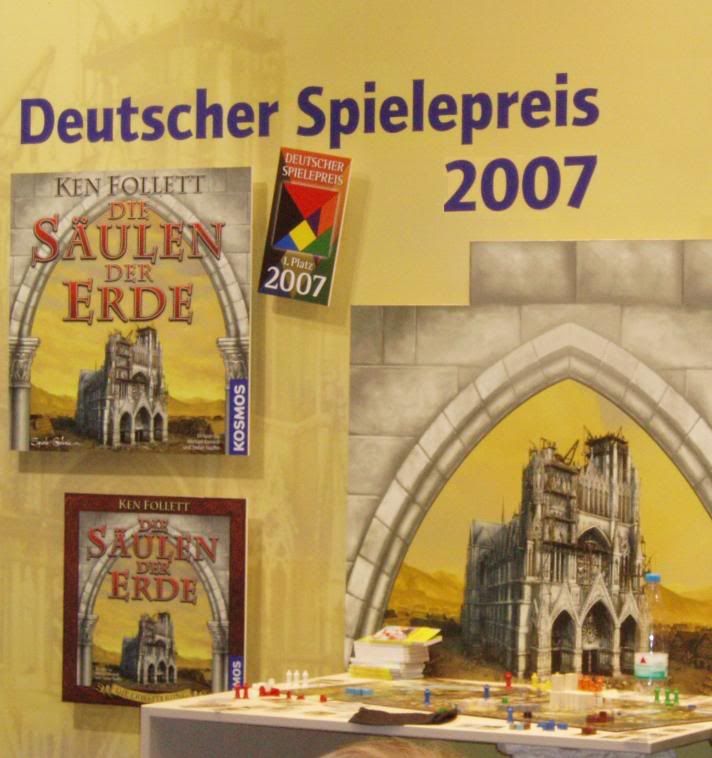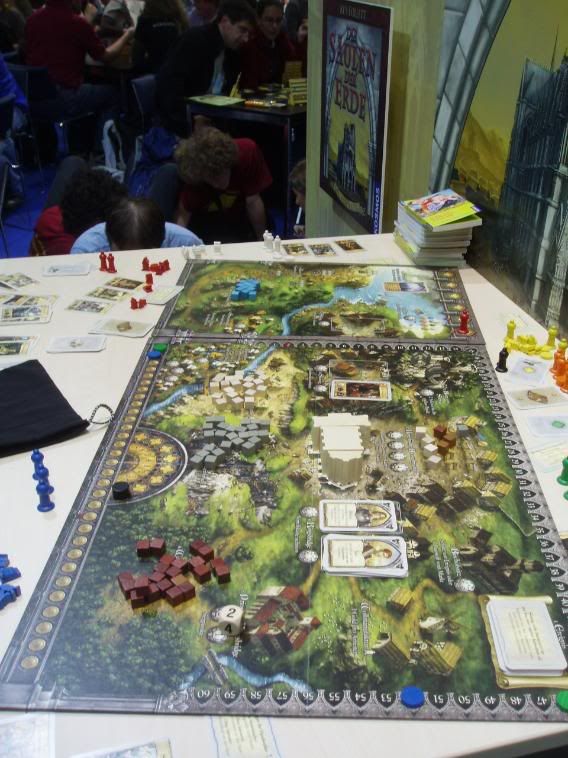 Alle spillebordene er allerede fulle, og folk har også slått seg til på gulvet for å prøve ut årets nyheter, spesielt Klaus Teubers Anno 1701.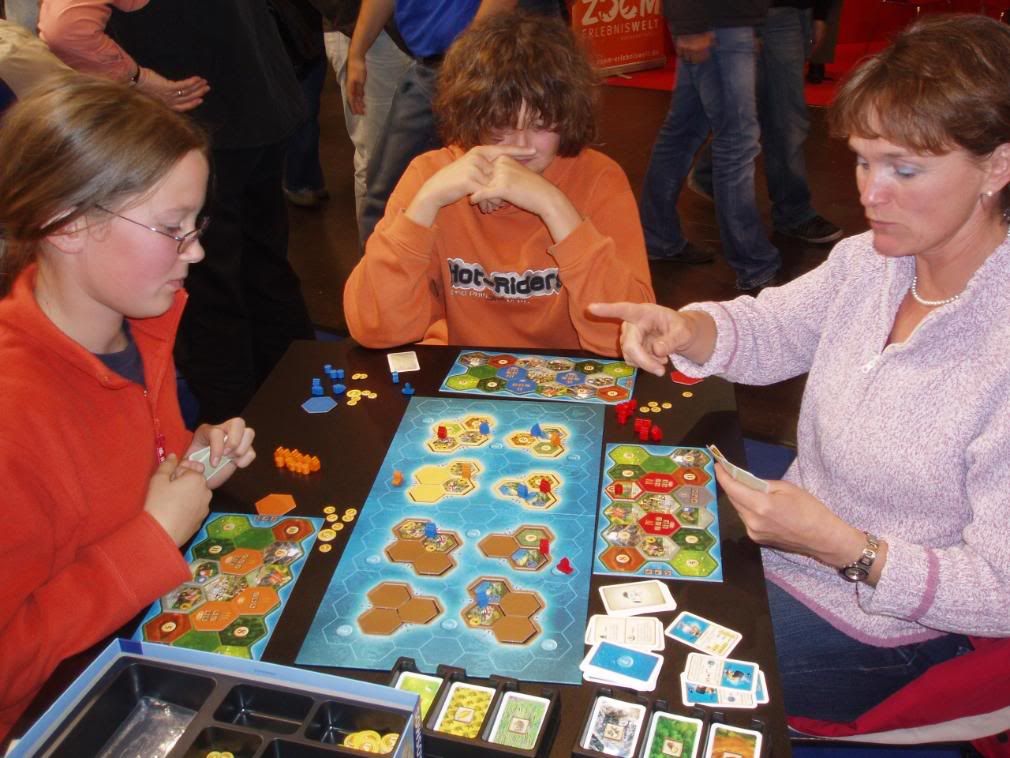 Når vi snur oss står vi ansikt til ansikt med Iorek Byrnison og Lyra, som tårner over spillebordene hos kosmos.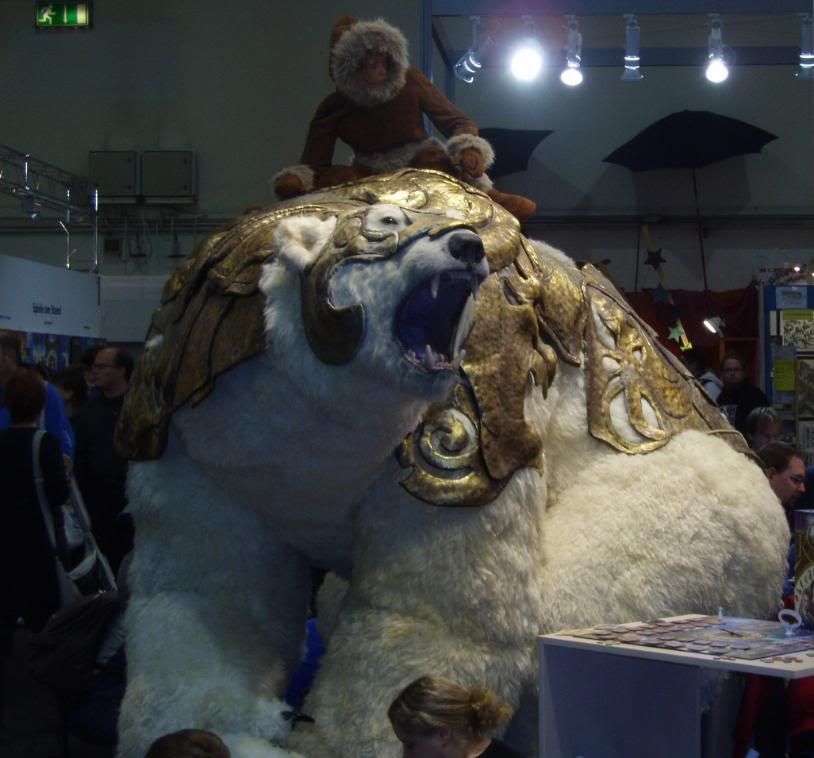 Det er to Golden compass spill: et fra
boka
, og et fra
filmen
Vi går hallene bod for bod, og overallt er det stappfult på og rundt spillebordene, akkurat slik det skal være.
Det er ikke bare t-skjorter blandt mannskapet: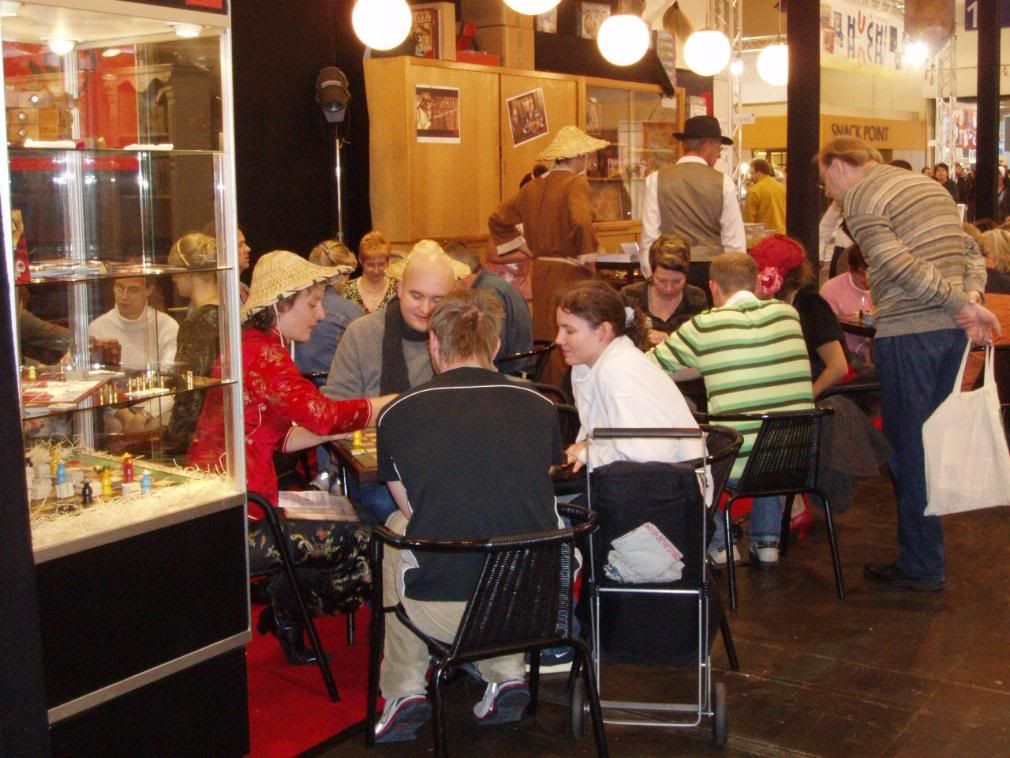 Noen boder er mer fantasifulle enn andre: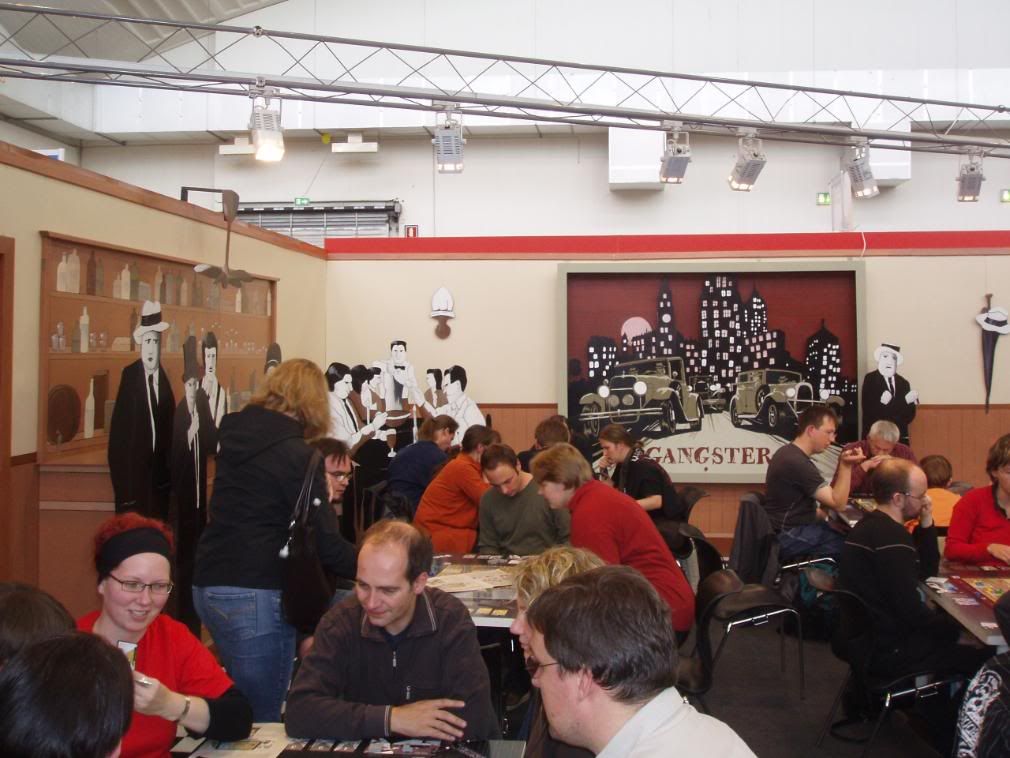 Andre bruker menneskelige blikkfang: Valley Games har med seg flere ting til messa enn sitt nye spill
Container
: Die Macher, Hannibal Vs Rome, og Miss Canada... 2008?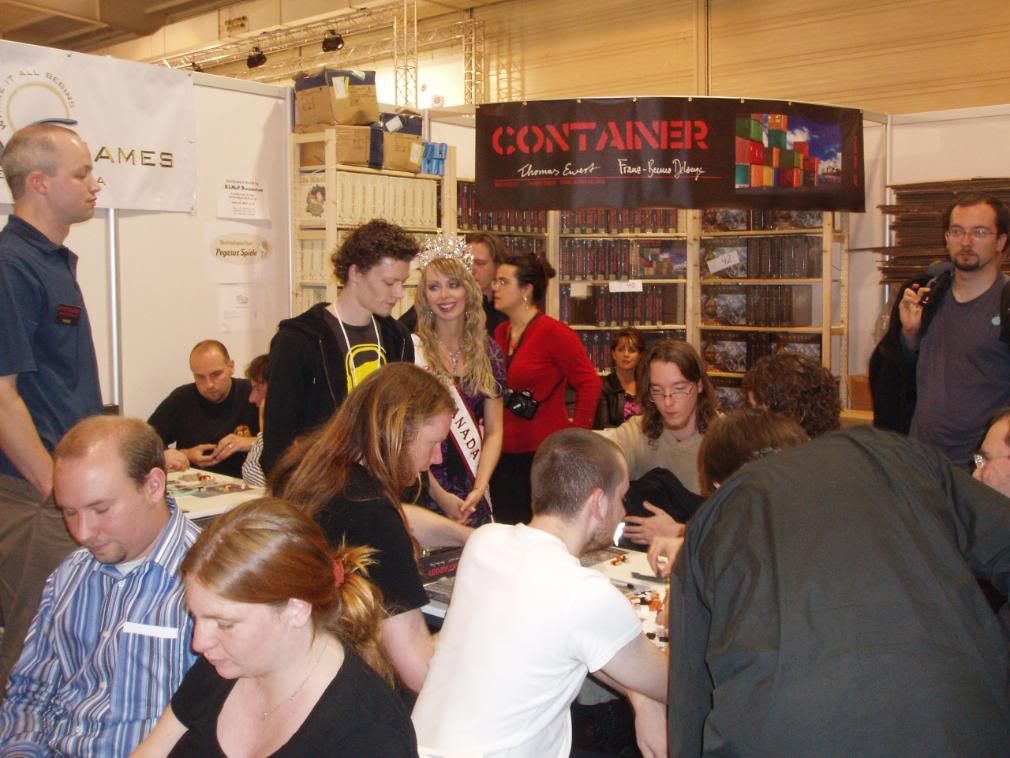 Vi fortsetter vår vandring gjennom hallene for å få oversikten.
Mange steder ser vi fantastiske messetilbud, og det er på et av disse vi finner ut at vi burde ha tenkt på å ta ut penger.
Tid for pause, og minibankkø...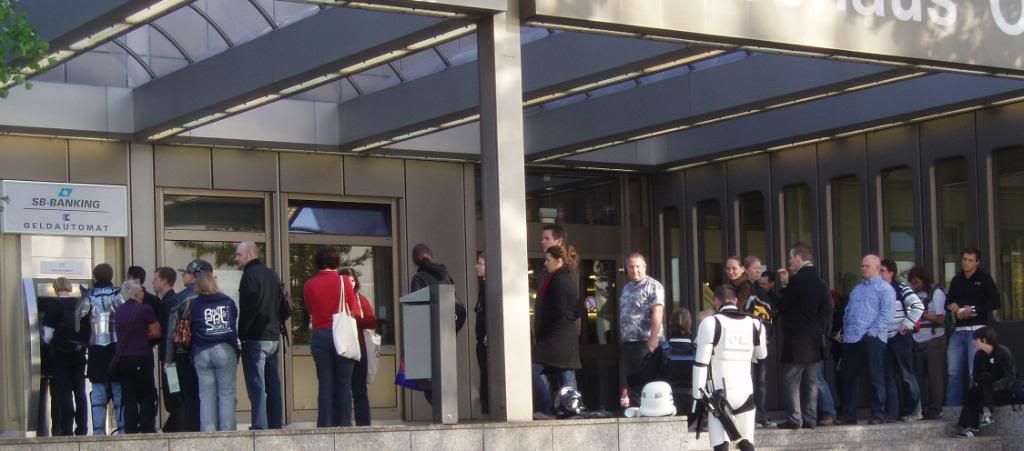 Gode grunner til å finne en minibank FØR man kommer til messeområdet. Til og med imperiet må stå i kø.
Inn igjen, og vi rekker å titte innom Settlers-mesterskapet.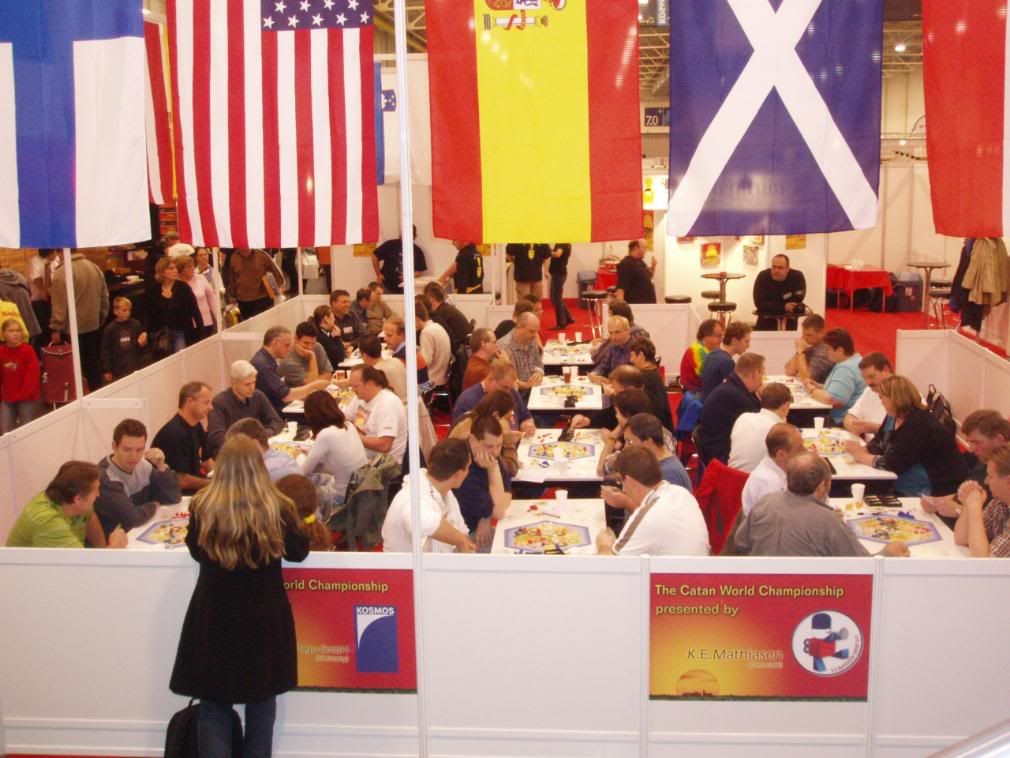 Det er en del større og mindre messeturneringer, blant annet Liebe &Intrige og Go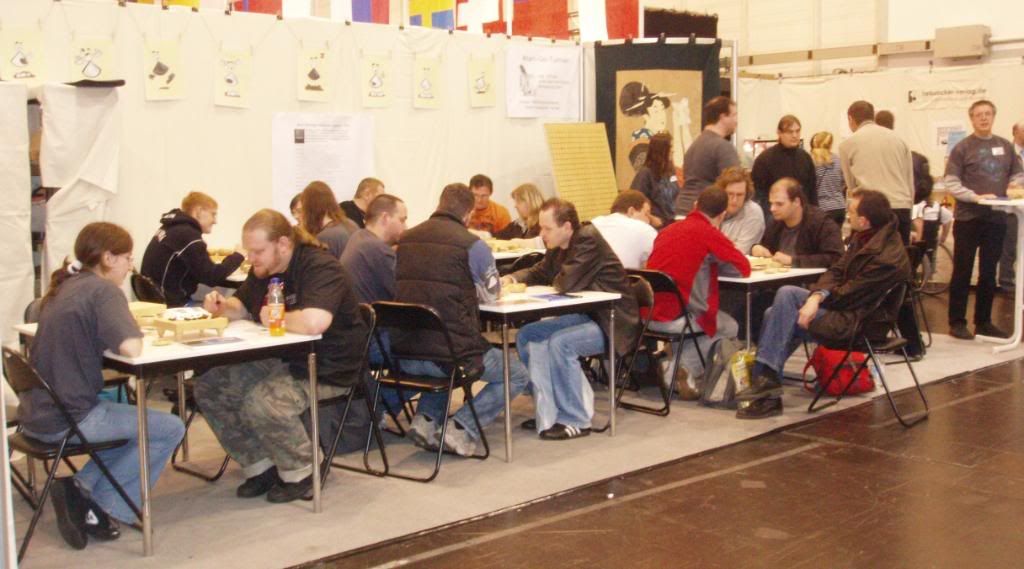 Zooloretto, som vant den tyske spillprisen i 2006 er blant disse.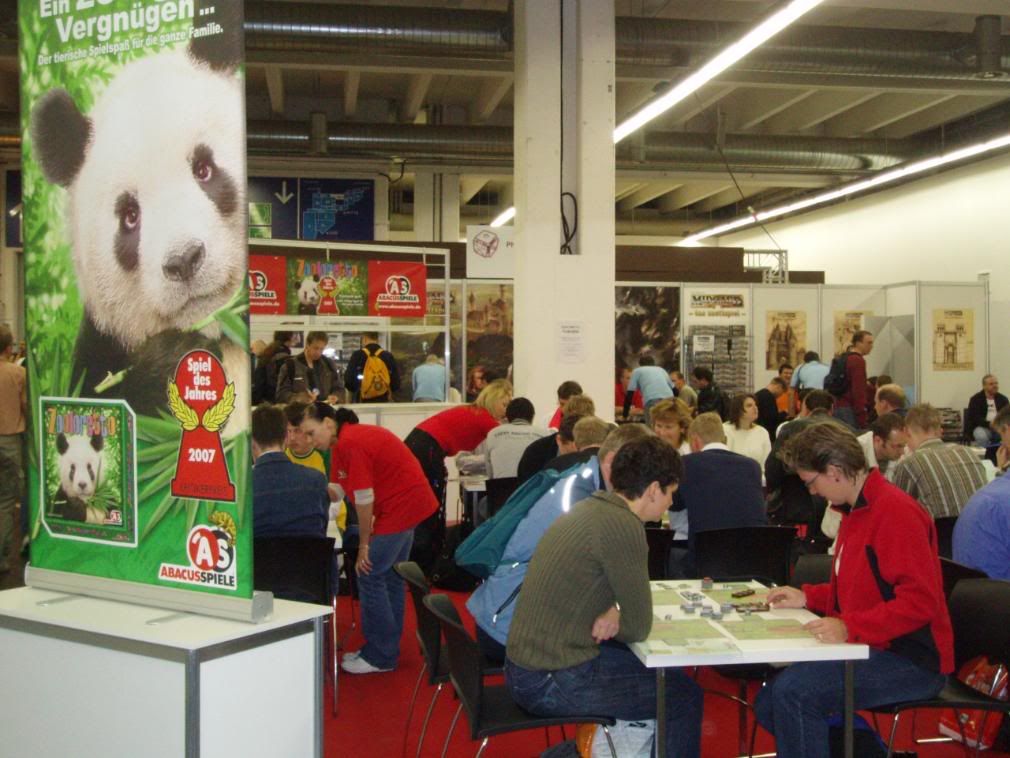 Vi rekker ikke mer den første dagen, det er nok å få en oversikt over nyhetene og de forskjellige hallene. Med fulle hoder drar rett til hotellet (som har en veldig koselig pub).
Fra Essen selv er det lite å melde, for å være ærlig så vi vel ikke annet enn det vi gikk forbi på vei til og fra messa. Det eneste virkelig iøynefallende her var hotell Arosa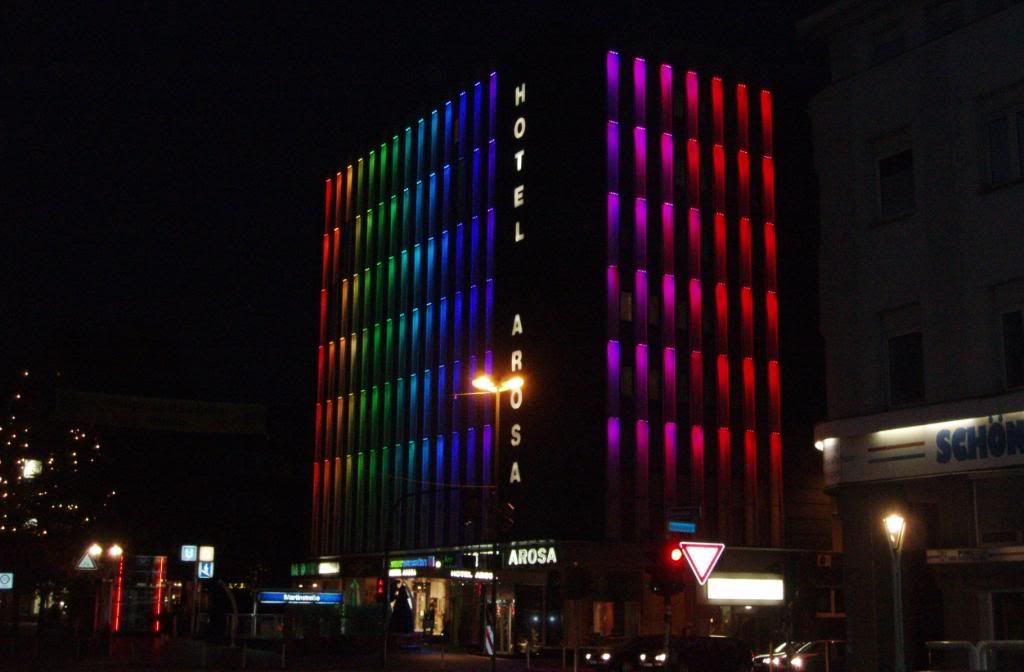 ---
De neste dagene kan vi messeområdet, og vi har noen ideer om hva vi vil.
Ved hjelp av tålmodighet og gode øyne får vi prøvd en del spill.
Noen ganger har man flaks og dumper borti små gullkorn, som If Wishes Were Fishes.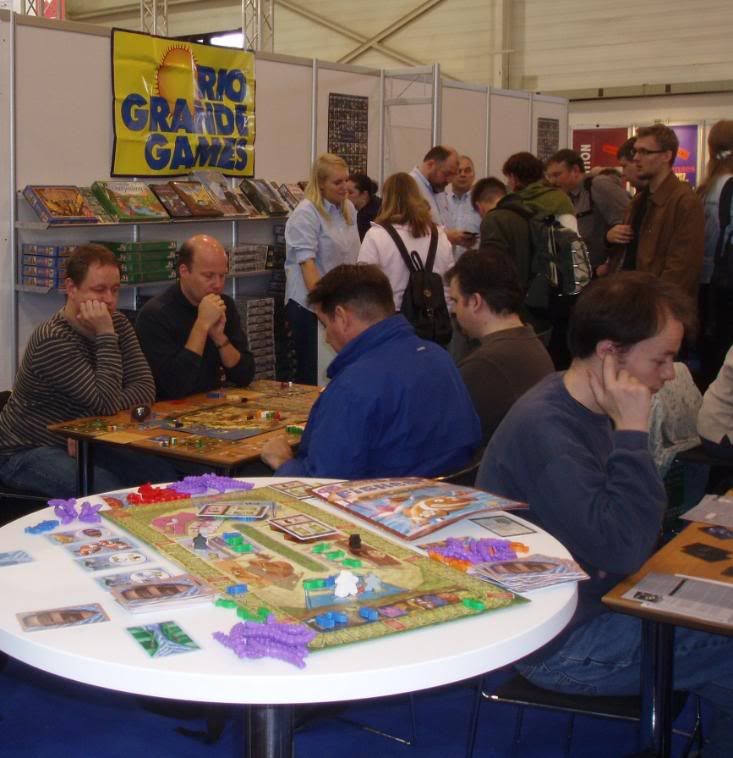 Her er det travelt hos Rio Grande Games. Bortsett fra If Wishes Were Fishes spilles blant annet Hamburgum, Vikings og Cuba.
Cuba fikk vi også prøvd.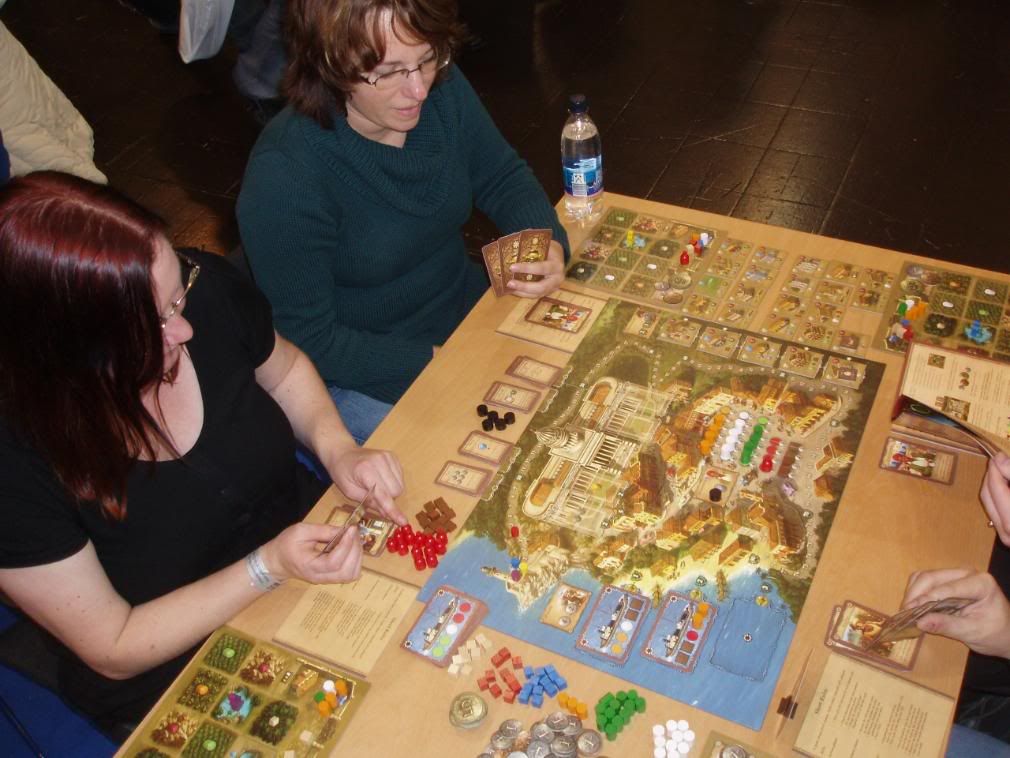 Spilling på messe fungerer mye bedre hvis man sørger for å være sosial. Slik fikk vi også et godt slag Zooloretto, og en hektisk runde Amyitis.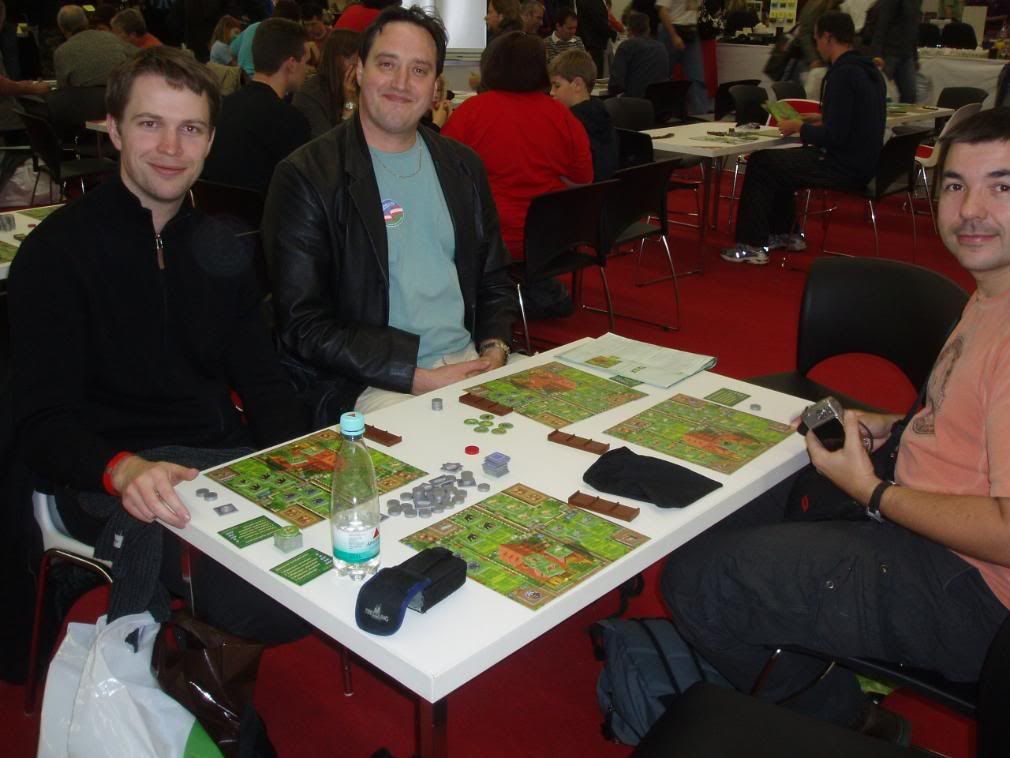 Ystari har laget mange gode spill, og til Spiel07 bragte de med seg en pen versjon av Caylus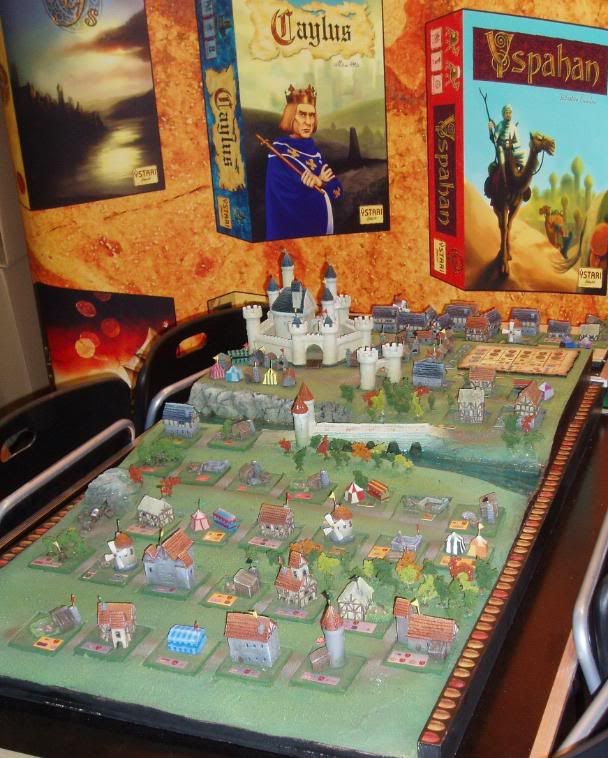 Dette var ikke den eneste påkostede utgaven av spill, blant annet Tunnelz hadde en gigantversjon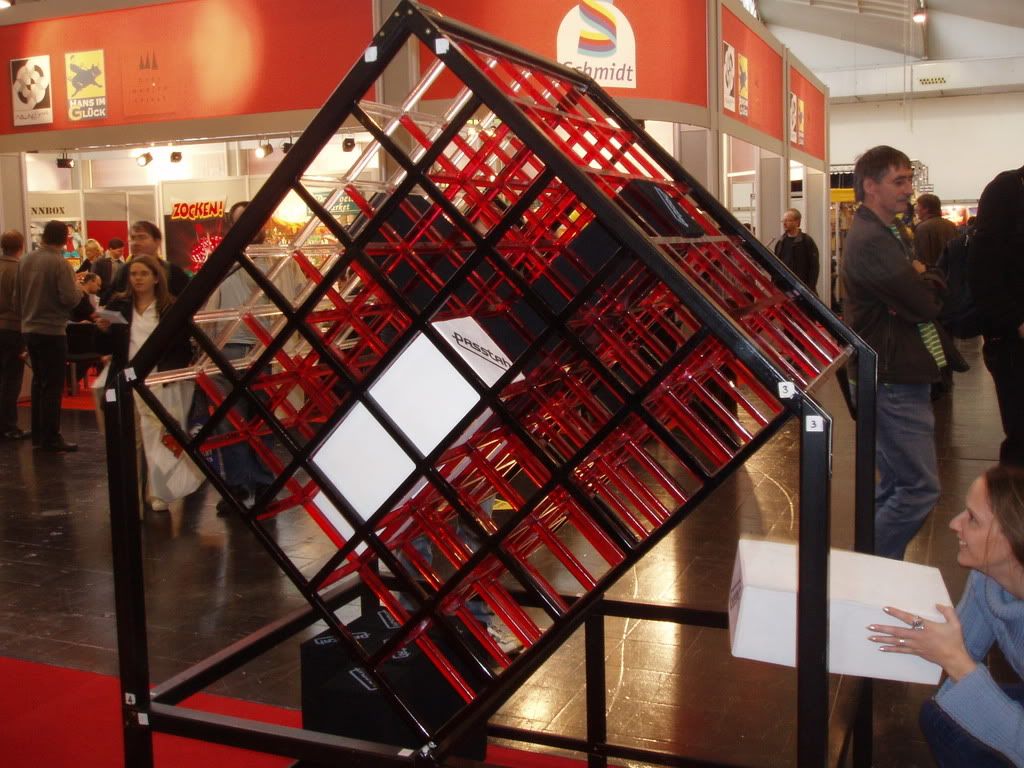 Heidelberger Spielverlag (Se Fantasy Flight Games) holdt sine spillbord fulle under hele messa.
Her fikk man prøve, foruten utvidelser til Arkham Horror, Descent og WoW boardgame, nyutgivelser (og opptrykk) som Khronos, Fury Of Dracula og
Beowulf
(som er laget av Reiner Knizia).
Knizia hadde også et spill hos Ferti: En Garde.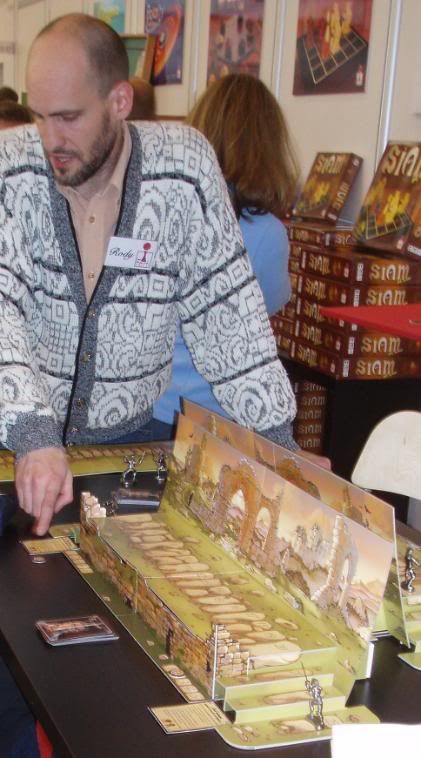 Den nye utgivelsen av Talisman fikk ganske mye oppmerkomhet: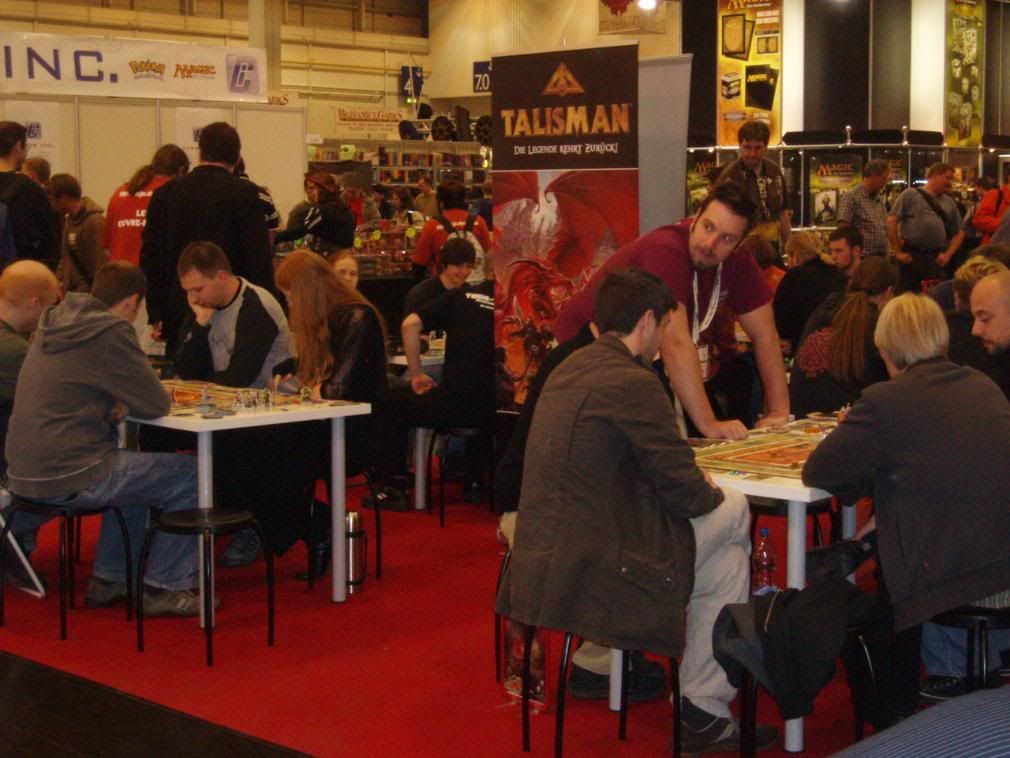 Det lønner seg å ta seg tid til pause, og i så måte kan det nevnes at messeområdet har dårlig med minibank men et par geniale snarveier, kjipe spisesteder men nydelige crepes, bra toaletfasiliteter, og en super kaffebar.
Det kan også lønne seg å gå ut en gang i mellom, for å få frisk luft, og for å se på folk og rare dyr. Et veldig vanlig syn uansett tidspunkt man står utenfor messelokalet: folk nedlastet med brettspill i esker, sekker, kofferter, poser og på traller. Mange går og laster fra seg for så å komme tilbake for mer.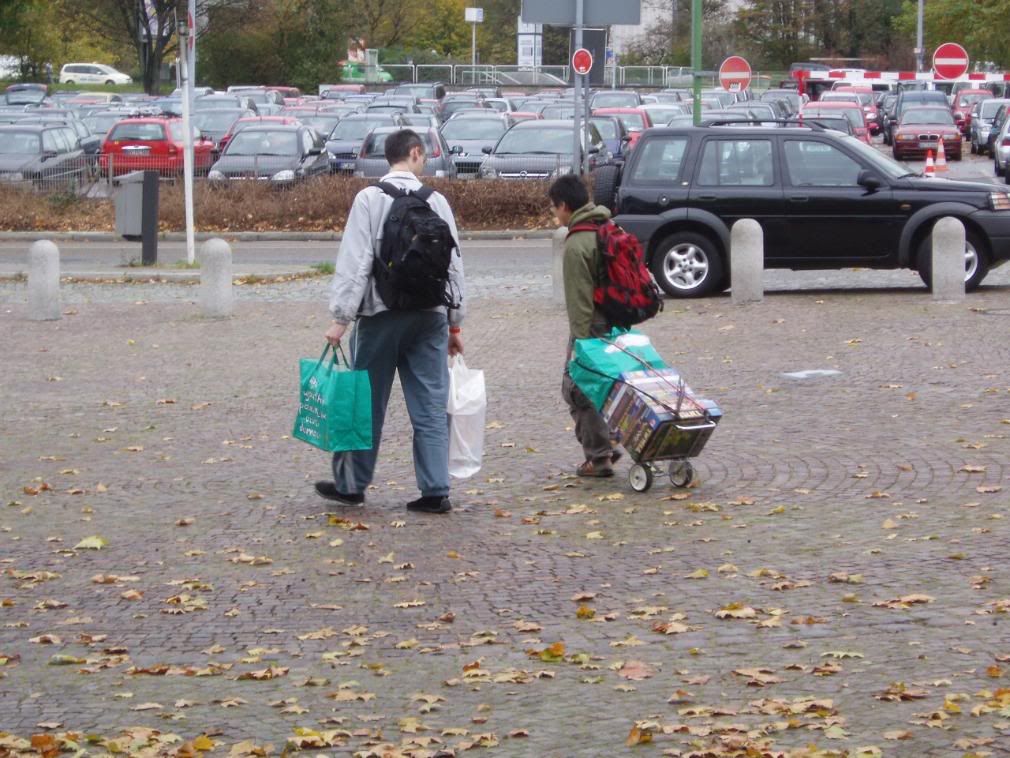 Vel inne igjen kan man huske på at det lønner seg å ha en plan, men at man må regne med å ikke få følge den.
Vi kom oss innom en del spill bare pga tålmodighet, andre ved planlegging, og flere ved ren flaks.
---
Lørdag er messens store dag. Selv om klokka nærmer seg 11 er køen til bilettsalget massiv. For oss, som kjøpte full billett på torsdag, er det bare å gå smilende forbi alle metrene med folk.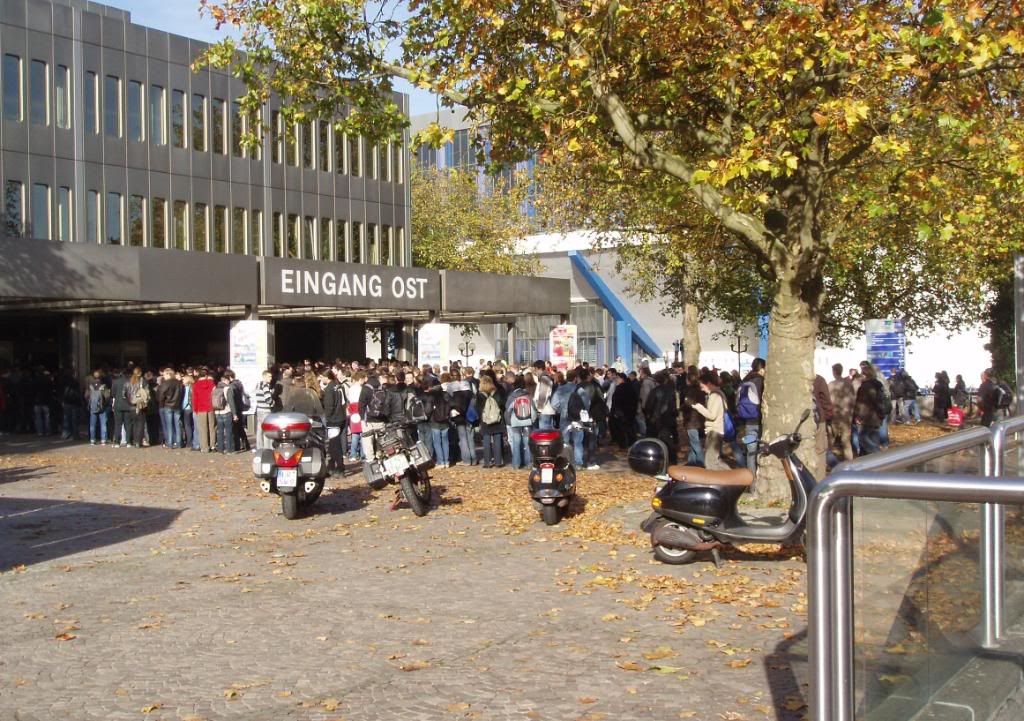 Inne er det frenetisk aktivitet. På vei inn i hall 9 bare stoppet vi opp og gapte: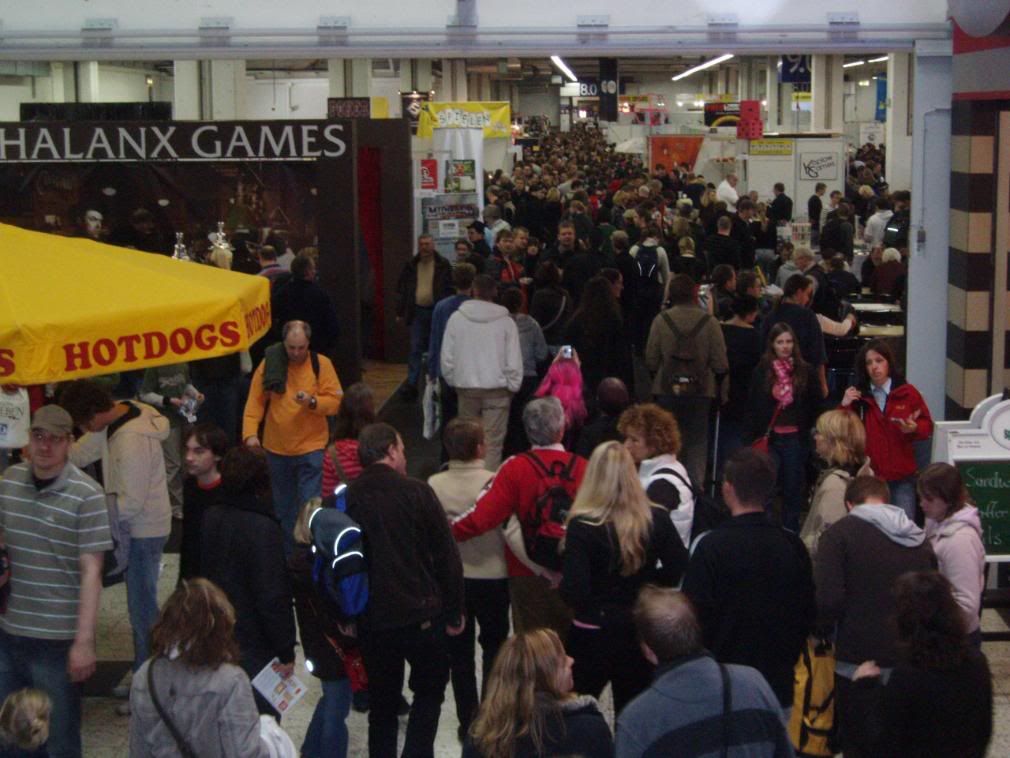 Man lærer seg raskt å gå i sikksakk, og det er mye moro å se på, spesielt rundt hallen med våpen, klær, og diverse liveutstyr.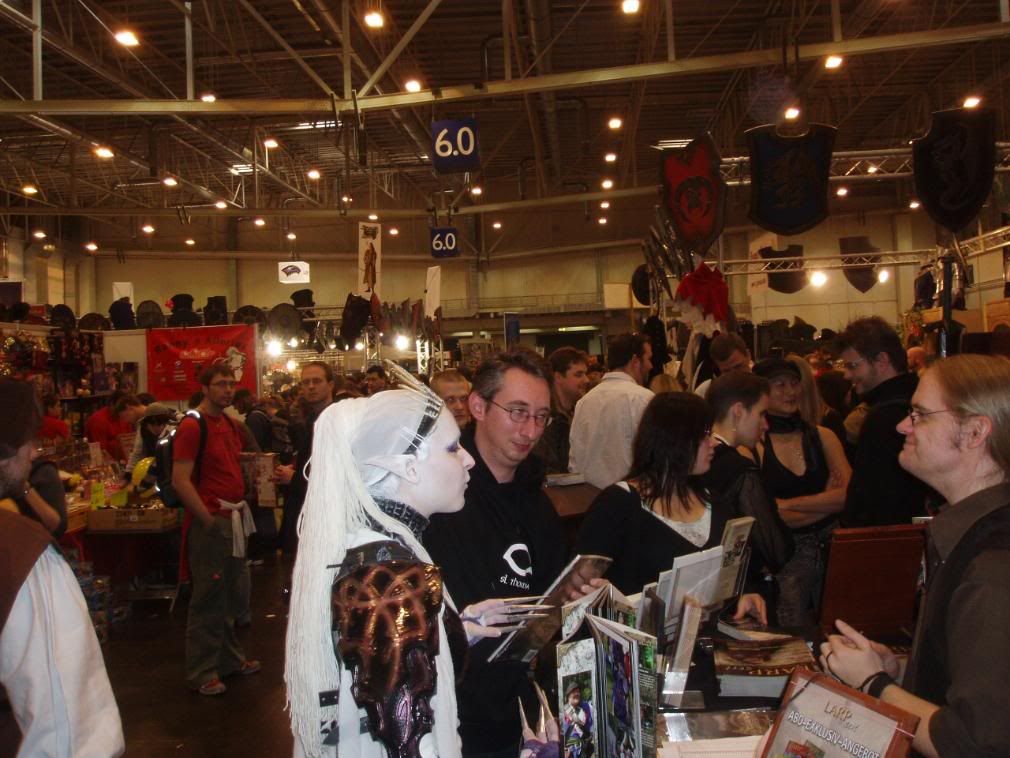 Noen stiller seg gjerne opp for fotografering...
Her også har noen lagt mer vekt på boden enn andre: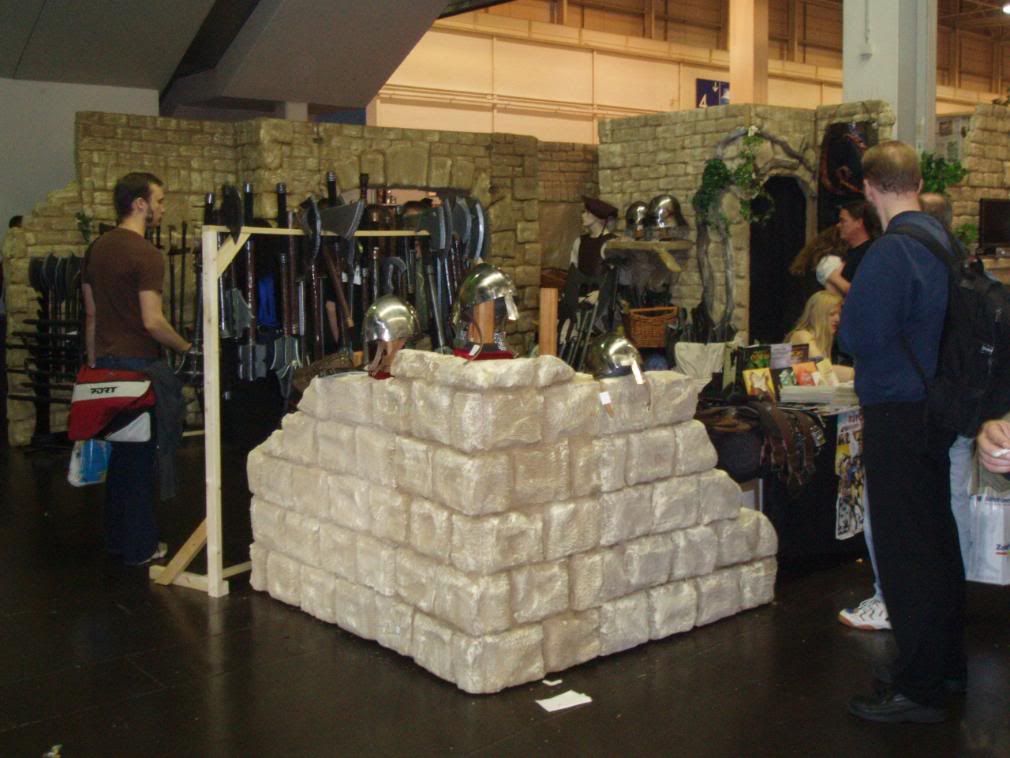 Noe av det første som møtte oss på lørdag var disse:
Ved Kosmos' stand kunne man møte Klaus Teuber. Vi tittet innom på lørdag, og som vi tenkte var det ganske stort påtrykk. En lang
kø av Settlers-fans
samlet seg rundt forfatteren av Catan-serien.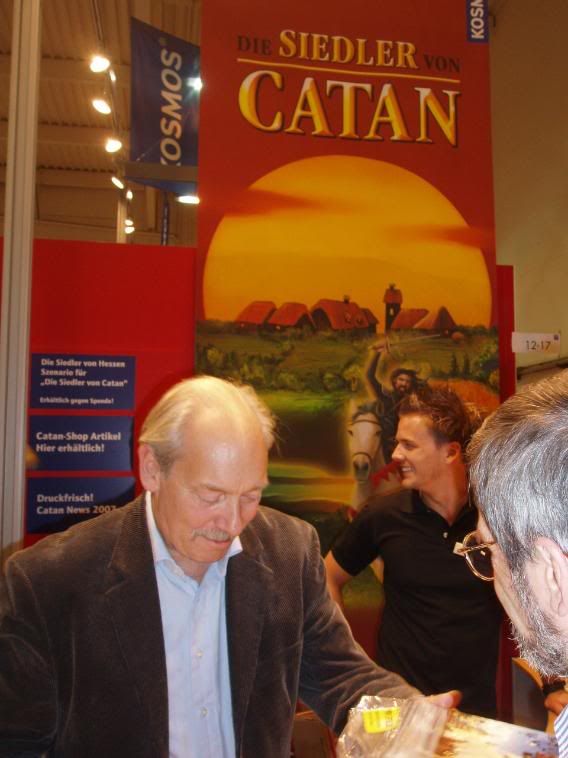 Det var flere signeringer på messa, vi rakk å få med oss Wolfgang Kramer hos Days Of Wonder. Her var det mange utgaver av Colosseum å se.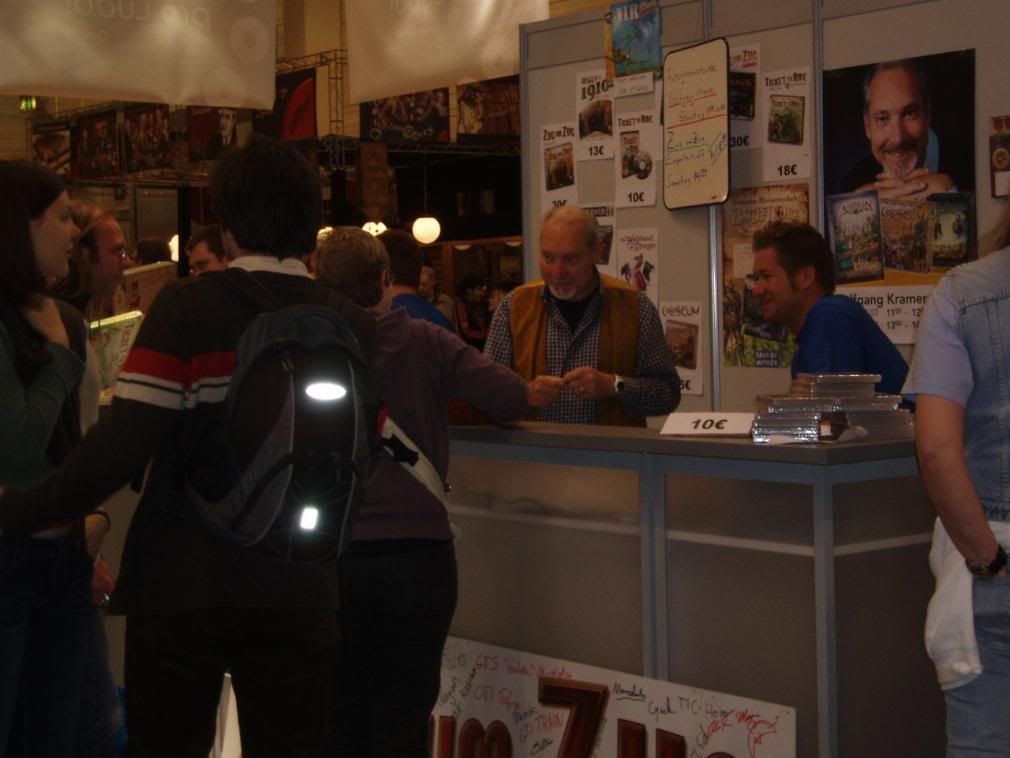 ---
Søndag er ikke like folksom som lørdag, men det er en god del frenetisk aktivitet både rundt spillebord og salgsboder. Mange drar i løpet av dagen etter å ha fylt kvoten og tømt lommeboka. Vi henter koffert og sekk ut fra oppbevaringen, og bruker litt tid på å spille tetris med alle spillene vi egentlig ikke burde ha kjøpt. Endelig klarer vi (såvidt) å få plass til alt, og så snur vi nesen mot Düsseldorf flyplass. Det siste inntrykk fra Tyskland i denne omgang består av en
gigantisk giraff
, og en surrealistisk bilutstilling.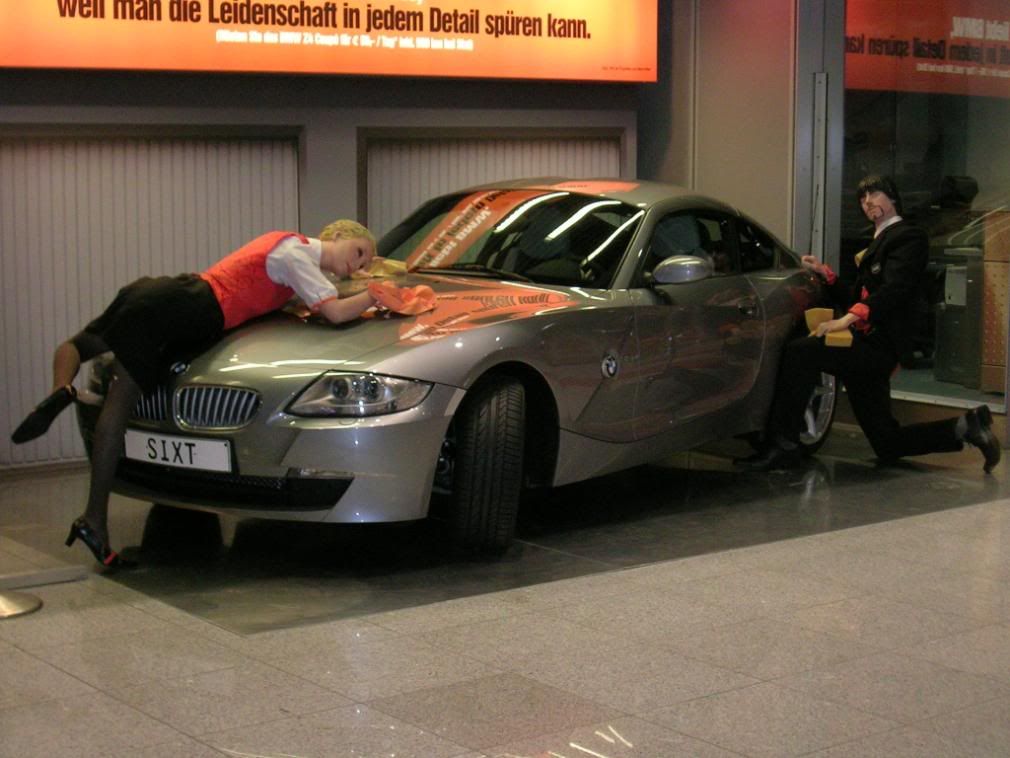 Her finner du en liste over
nyheter.
Her er en liste over nominerte til årets
brettspillpris.
Flere spill:
Saba
Mouse Chaos
Stonehenge
Theben
Utopia
Flere boder:
Amigo
Catan frenzy
Horn
Sjonglering
Queen Games
Rio Grande
-Astri Mari